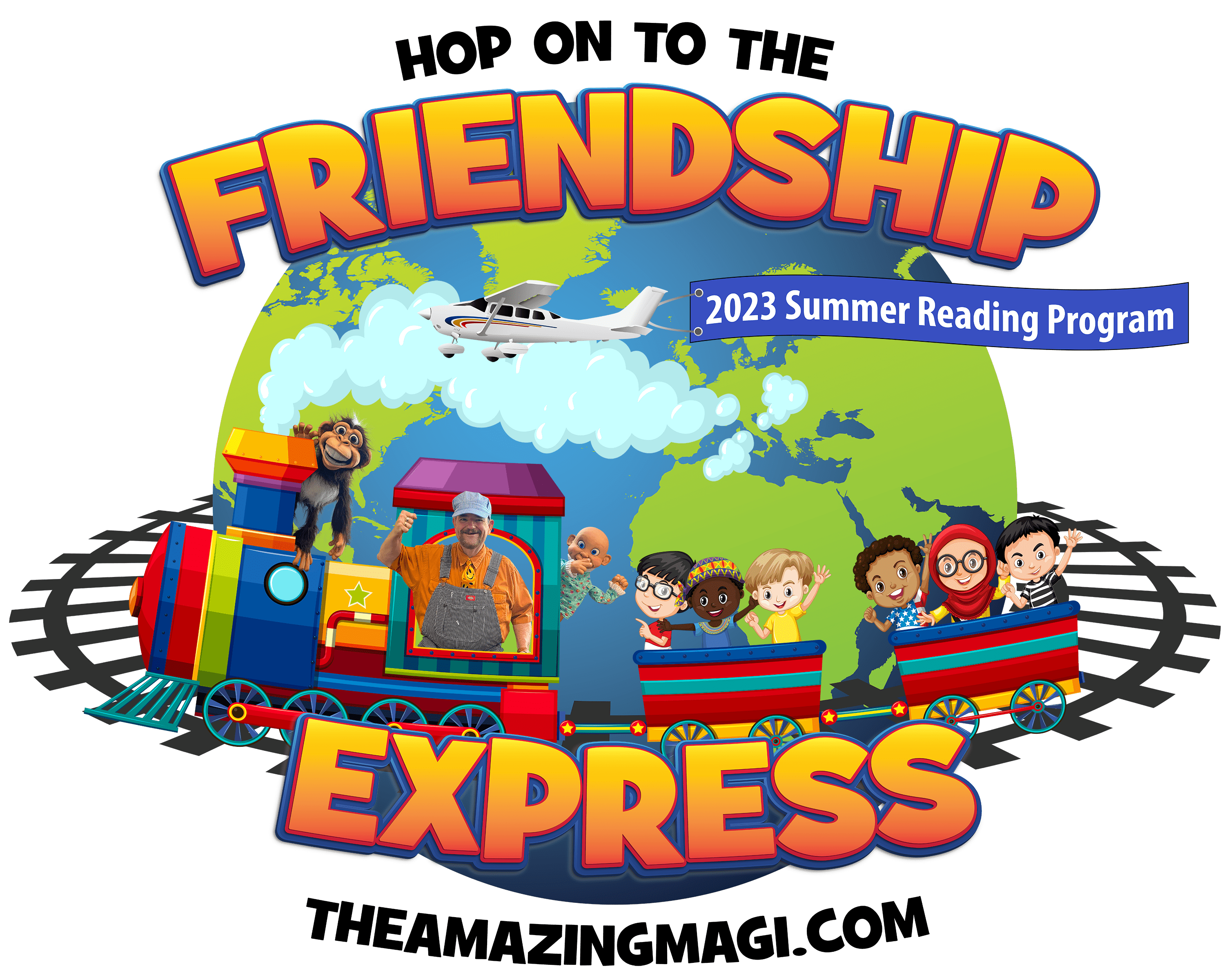 DISCOVER THE MOST ENTERTAINING, EDUCATIONAL AND ENGAGING LIBRARY PROGRAMS IN THE NE UNITED STATES WITH THE AMAZING MAGI
Dear Library Friend:
Allow me to help you. Today so there are so many different things that pull children away from reading. So many children miss out on how reading can not only enrich their lives, but also be loads of fun. You want a program that will enchant, enthrall and captivate the children with the Power of Reading. You want the very best program possible for your children. Allow me to introduce you to my 2023 Summer Reading Show – "Hop On To The Friendship Express!"
I promise you a highly interactive program that will have the children involved, captivated and enchanted. For those Libraries that have had me before, this is an all new program created specifically for the 2023 Reading Theme. All the magic is new including a brand new custom built illusion just for this show to make my magical bunny rabbit appear.
I, (Conductor Mike), will be using Comedy, Story Telling, the Skunky Monkey, Big Baby as well as Mr. Book, to create a wonderful experience for your children and parents. This fun-filled show will illustrate the importance of friendship and the traits that go into friendship such as: Love, Helpfulness, Respect, Honesty, Compassion and so much more, all while having the time of their lives!
Here are just a few Highlights of the Show!
The Children will not only learn, they will laugh, clap and have a great time.
The Show will incorporate all the children into the fun & learning
LIVE RABBIT!  One of my LIVE Magical Bunnies will make an incredible and mystifying appearance!  PLUS everyone can take a selfie with him/her after the show! (if held outside, they may have to stay home if the weather is too hot)
FRIENDLY PUPPETS KIDS LOVE! You'll meet the hilarious Skunky Monkey, Big Baby and Mr. Book who will interact with the children, help with magic, and teach about friendship and reading.
SAFETY FIRST! Just in case Covid is still an issue in Summer 2023, I promise the Show will be safe! I follow all recommended health and distancing guidelines.
Books that you would like the Children to check out will magically appear (this again will be a new illusion, not the treasure chest used previously).
FREE GIFTS FOR EVERYONE! EVERYONE will receive 4 awesome prizes for coming to your program….

A custom handout Crossword puzzle sheet which will reinforce the magic of reading and what the Children learned about Friendship and Reading.
A Custom Word Search puzzle sheet which also reinforces the Friendship and Reading.
A Free Magic Trick that they get to keep and take home so they can do magic too!
And The Amazing Magi's Special Dollar Bill that will teach them some basic magic tricks they can make at home with every-day objects.

MORE FUN THAN EVER BEFORE! Last, but not least, did I mention the children will have FUN, FUN, and more FUN!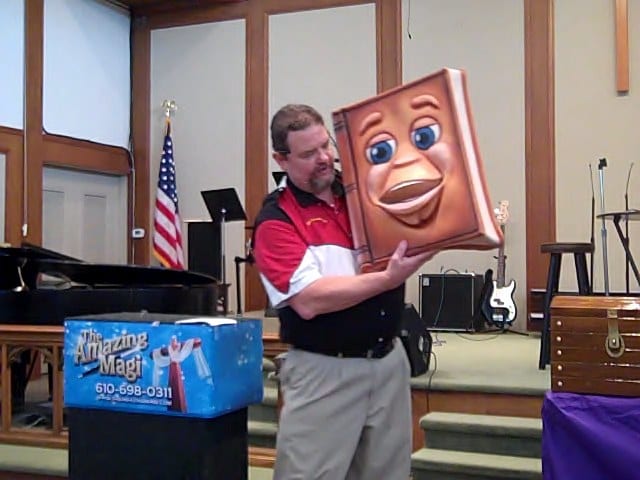 A Message From Me to You
I also realize that hiring entertainment can be difficult.  It's tough to know WHO will deliver an exceptional experience you are proud to present.  It's for that reason I have created my "I .C.A.R.E.!. PROMISE!"
This is simply my "hand on heart" promise to deliver the highest quality of family entertainment as follows:

I – I will always keep your needs as my top priority. Everything I do will be about meeting your needs and making sure you have the safe and unforgettable event you deserve. And because I do care I also offer my E-Book "The A to Z Guide on Safe, Live Social-Distant Shows" to all my clients as a complimentary service.  To download your copy click here.
C – Communication. I will Communicate with you often and clearly so you feel supported and can rest easy knowing that I have everything under control when it comes to your special event entertainment.  I even provide you with my personal cell phone number where you can reach me through voice or text should you have any questions or need assistance with anything leading up to the event.
A – Appropriateness. My act will always be appropriate, always feature squeaky clean family friendly comedy & material.  You never have to worry about anyone taking a joke the wrong way or feeling uneasy. Everyone will laugh and be amazed!
R – Respect.  As a professional, I respect my profession and you. I will always come prepared, appropriately dressed, and always have allnNecessary background checks and insurance.
E – Excellent – Your event will be filled with truly excellent and extraordinary magic, but even more important, it will excite your guests and leave them laughing in their seats one moment and gasping with astonishment the next.
! – One Last Promise and Emphasis.  If I don't Deliver an Amazing, Fun, and Unforgettable Experience, You Won't Owe Me A Penny.  That's Right! I am so confident  you will love my performance and the overwhemling majority of your guests will too that I offer my Iron-Clad Money-Back-Guarantee.
Below are just a few Video Testimonials from Librarians I have worked with in the past. If you would like to see additional video reviews from other librarians please click here
We just had Michael Reist, The Amazing Magi. His show was incredible. Over 100 people went away amazed, entertained and most of all, had a great time!
To receive information concerning The Amazing Magi's Summer 2022 Reading Program or any other programs please fill out this form or you can call me at (610) 698-0311. Thank you.
We just had The Amazing Magi, Michael Reist perform here, and the children loved him! It was really entertaining, and I loved how he used the books, really engaged with the children and promoted reading which is really what Summer Reading is all about. Thank you, Michael!