The Amazing Magi, The NE United States Funniest and Best Birthday Party Magician
 You're About To Throw The Best Birthday Party Ever!!!
Thank you for your interest regarding your child's birthday party.  Planning your child's birthday is an exciting and important event. You want it to be special but also within a budget. You want an entertainer that takes control of the party so you can just relax, take it easy & enjoy yourself. My name is Michael Reist, The Amazing Magi, and I specialize in making children's birthday parties unforgettable, fun,  and entertaining while creating magical moments and memories. I offer a variety of different entertainment packages to help you do just that and fit within your budget. And in addition to my live in-person birthday shows described below, I also offer the option of doing it live via Facebook or Zoom for your convenience.
 Let's face it. There are many entertainers out there. Before I even describe my services, why should you choose me? 
I spent over 30 years as a public school teacher bringing all that experience with me in working with children and families
I have over 16 years as a professional entertainer, bringing my brand of family-friendly entertainment to venues all over the NE United States
I always have updated Child Clearances as well as Professional Liability Insurance
Proof of Covid Vaccination
And lastly I offer my I-Heart Guarantee to You.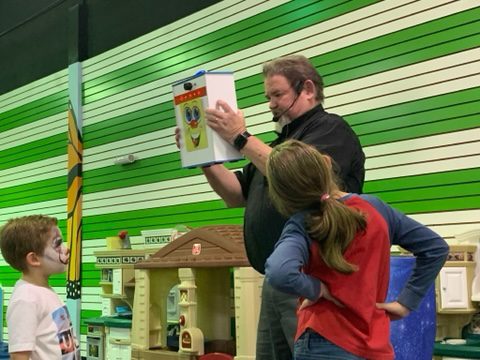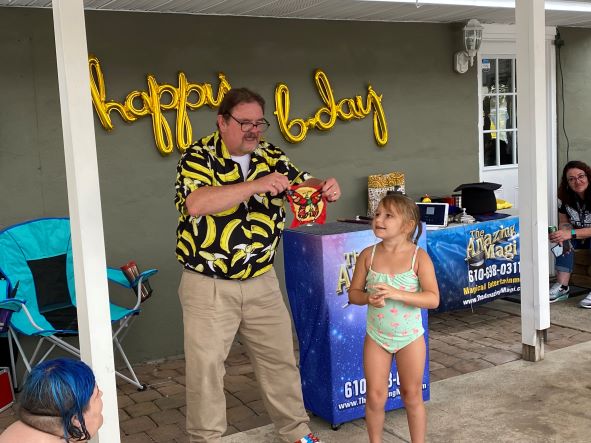 But don't just take my word, listen to what past clients have to say about me and their experience.
An awesome show; he had the kids laughing with amazemand and the parents in awe. Definitely worth the money and definitely had a grand ol time. Already looking forward to another kids events with Michael Reist. I highly recommend his show. Parent and friends of birthday boy are still talking about what an amazing show and party my son had. Hands down five star show!
Michael Reist is great!!! My daughter's party was the best party … He is amazing with kids and even adults .. Thank you Michael Reist for the great magic day you gave Mariana in her 6th bday party.
Michael Reist did an AMAZING job. His magic was very entertaining. The kids at our party loved him! He arrived on time and was very professional. His jokes were age appropriate but he still managed to keep the adults entertained. I will recommend him to all my friends.
To see more reviews from Moms, Dads and Others who have hosted me for Birthday Parties please click here.
Your Child is the Star of the Show!
In all my birthday parties, the Birthday Child is of course, the STAR of the SHOW! There is tons of fun and comedy in all of the shows. They can be themed (such as a Princess Show, a Pirate Show, etc.) or just a zany, fun-filled, amazing show.
Each show is custom-designed and age-appropriate so that your child is guaranteed to have the party and show of his/her dreams.  But it is also designed so that the parents have a great time as well.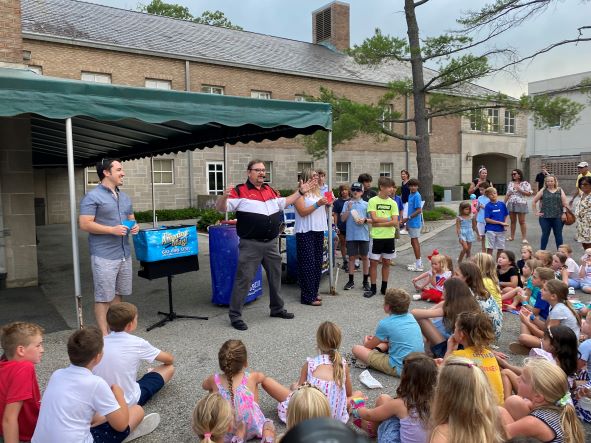 Magic Show Birthday Party Packages
And since it is an audience participation show, all the kids get to help out in some way. This is important because, as you know, kids nowadays don't want to just sit and watch a show, they want to be involved and feel like they're participating in the magic. Now in addition to the amazing and fun magic, I perform some very funny puppetry. The kids really love my puppets. In fact, it's one of the highlights of my show that makes the kids laugh the hardest.
Below you will see the packages and options designed to make your child's birthday party an event they will never forget.
Magic Show Gold Package
The Gold Magic Birthday Show Package includes the incredible fun-filled, amazing, interactive, zany magic show that is guaranteed to make your child's birthday party not only a rousing success, but will created lasting magical memories and moments. In addition to the show, this includes the following:
Your Child is of course the Star of the Show!
It includes the live appearance of either Pebbles or Bam Bam, my magical bunnies!*
Every child gets 2 free magic gifts for coming to the party!!!
Every child gets my Magical Dollar Bill which teaches 3 awesome magic tricks!
Your child gets all the gifts the other children get plus an extra magical gift from me to him/her!
At the end of the show I make your child a crazy, balloon party hat!
And, if there are 10 children or less, at the end of the show I make a balloon animal/sculpture for each of the children (if there are more than 10 children, balloons can be added for a small fee)
Magic Show Platinum Package
This includes everything included in the Gold Package plus:
The birthday child will be part of a very special illusion!
All the children will receive a Magical Goodie Bag (up to 15 children)!*
The birthday child will receive a deluxe magic goody bag valued at $50.00!!!
Puppet Birthday Party Packages
Puppets are adored by young and old alike.  Some of the top entertainers today are ventriloquists.  I also love puppets and many times I will use a puppet in my magic shows.  But I also love puppets so much that I also offer Puppet Shows for young and old alike. Be enchanted by Leonardo the Timid Lion, Sebastian the Serpent, Melvis Preesly, Cindy Looper, Oscar the Orangutan and many, many other characters.  You may book a puppet show in one of two ways.  First you can add a puppet show to a Magic Show.  Secondly you can book a Puppet Show only.  
A – Puppet Show Add-On – This is a very popular option with Moms and Preschools.  First you have a Magic Show where I will introduce one of my puppet characters.  When the Magic Show is finished, we will have a brief break and then continue with the magic and hilarity of the Amazing Puppets. Go to Magic Shows above to see prices and book a puppet show as an add-on to a Magic Show.
B – Puppet Show Only – Perhaps you love puppets but don't have time for two different shows.  You can book only a Puppet Show without booking a magic show.  I guarantee young and old alike will be laughing their heads off as a cast of characters come out, perform and interact with the audience.  In addition, you still have the option of adding on a Balloon package to your puppet show.
It'll be the easiest party you've ever thrown!
Those are my Birthday Packages in a nutshell. How do they sound to you? Do you have any questions? Call us now at 610-698-0311 to discuss the party in detail! Please keep in mind that I can only accept a limited number of engagements and work on a first come, first serve basis. So to claim all of your discounts and avoid disappointments, don't delay and request your date now and myself or my assistant will get in touch and let you know if your preferred time is available. Thanks!
Michael Reist
The funniest kids' magician in Pennsylvania
610-698-0311
P.S. All of my entertainment packages come with a full 100% money-back guarantee. If you're not totally delighted with the show, you won't pay anything.
P.P.S. For your convenience, you may pay with Visa, MasterCard, American Express, Discover or PayPal (in addition to checks and cash).
My Hand On Heart Promise To You
I'm so confident that my fun magic show will make the kids laugh hard and smile in amazement at your child's birthday party that I'm going to put my money where my mouth is by offering a 100% money back guarantee. If you're not completely thrilled and satisfied beyond belief, just let me know and you'll pay nothing for the show. You have absolutely nothing to lose and all the risk is on me!